!! History Commons Alert, Exciting News
July 7-10, 1987: North Testifies before Iran-Contra Committee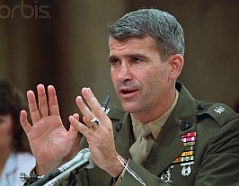 Oliver North testifying before the Iran-Contra Committee. [Source: Bettmann / Corbis]Lieutenant Colonel Oliver North testifies before the joint House-Senate Iran-Contra investigative committee. During the course of his testimony, he says he does not know if President Reagan had any knowledge of the diversion of funds from Iranian arms sales to the Nicaraguan Contras (see December 6, 1985 and April 4, 1986). North also testifies that William Casey, the recently deceased CIA director (see May 6, 1987), knew of and approved the diversion of funds to the Contras. North admits that the Iranian arms sales were initially designed to help facilitate the release of the American hostages being held by Hezbollah. [New York Times, 11/19/1987]
Tour de Force - North's testimony is a "tour de force," in the words of authors Lou Dubose and Jake Bernstein, that allows Republicans the opportunity to reverse the field of the hearings and go on the offensive instead of defending the conduct of the Reagan administration. North, a Marine lieutenant colonel, wears his full-dress Marine uniform throughout his entire testimony with rows of ribbons festooning his chest. Handsome and full of righteous patriotism, he is striking on television, and contrasts well with the nasal, disdainful committee lawyers (see May 5, 1987) who spend four days interrogating him.
Need to Free Hostages Trumps Law - For the first two days, North and House counsel John Nields spar for the cameras. North says that Casey had directed him to create the so-called "Enterprise" (see November 19, 1985 and February 2, 1987), the clandestine organization that supported the Nicaraguan Contras with money, weapons, and sometimes US personnel. North admits to shredding untold amounts of evidence after the operation came to light (see November 21-25, 1986). He also admits to lying to Congress in previous testimony. But all of his actions are justified, he says, by the need to get Iran to free the American hostages. "I'd have offered the Iranians a free trip to Disneyland if we could have gotten Americans home for it," he declares in response to one question about US arms sales to Iran. Senate counsel Arthur Liman will later write, "He made all his illegal acts—the lying to Congress, the diversion [of funds from Iranian arms sales to the Contras], the formation of the Enterprise, the cover-up—seem logical and patriotic."
Targeting Covert Operations - Nields's preferred line of questioning—covert operations—makes many committee members uncomfortable. Some House Democrats want to use the investigation to further their own goals of limiting covert actions, and others simply want the truth to be revealed. In contrast, House Republicans are united in opposition to any details of covert operations being revealed on national television and thus hampering the president's ability to conduct future operations as needed. After the first day of North's testimony, committee member Dick Cheney (R-WY) exults on PBS that North "probably was as effective as anybody we've had before the committee in coming forward very aggressively and stating what he did, saying why he did it, arguing that he was in fact authorized to take the activities that he did."
Leaky Congress Unfit to Know of Covert Ops, North Contends - North echoes Cheney's position that the question is not whether White House officials broke the law, but whether Congress was fit to consider the question of national security at all. North goes so far as to question the propriety of the hearings themselves: "I believe that these hearings, perhaps unintentionally so, have revealed matters of great secrecy in the operation of our government, and sources of methods of intelligence activities have clearly been revealed, to the detriment of our security." North's message is clear: Congress is not fit to handle covert operations or, by and large, to even know about them. Best for the legislature to allow the White House and the intelligence community to do what needs doing and remain quiet about it. North's contention that Congress has leaked vital national security information is shot down by Senate committee chairman Daniel Inouye (D-HI), who not only forces North to admit that he has no evidence of his contention, but that the White House, not Congress, is the main source of leaked classified information. Indeed, North himself has leaked information (see July 7-10, 1987). Inouye's co-chair, Warren Rudman (R-NH) will later say: "The greatest leaks came out of the White House. North and company were the biggest leakers of all during that period." [Dubose and Bernstein, 2006, pp. 75-78] Nields, addressing North's implication that the NSC has no obligation to tell the truth to Congress, says towards the end of his session with North: "We do believe in a democracy in which the people, not one lieutenant colonel, decide important policy issues, don't we? … You denied Congress the facts North had admitted to lying about the government's involvement with the Hasenfus plane. You denied the elected representatives of the people the facts." [Boston Globe, 7/9/1987]
Impact on Public Opinion - Results will differ on North's popularity with viewers (see July 9-31, 1987).
Email Updates
Receive weekly email updates summarizing what contributors have added to the History Commons database
Donate
Developing and maintaining this site is very labor intensive. If you find it useful, please give us a hand and donate what you can.
Donate Now
Volunteer
If you would like to help us with this effort, please contact us. We need help with programming (Java, JDO, mysql, and xml), design, networking, and publicity. If you want to contribute information to this site, click the register link at the top of the page, and start contributing.
Contact Us