!! History Commons Alert, Exciting News
Context of 'Early October 2001: US Launches Attacks on Afghanistan from Pakistani Bases'
This is a scalable context timeline. It contains events related to the event Early October 2001: US Launches Attacks on Afghanistan from Pakistani Bases. You can narrow or broaden the context of this timeline by adjusting the zoom level. The lower the scale, the more relevant the items on average will be, while the higher the scale, the less relevant the items, on average, will be.
The US begins using the Shahbaz air force base and other bases in Pakistan in their attacks against Afghanistan. [London Times, 10/15/2001] However, because of public Pakistani opposition to US support, the two governments claim the US is there for purely logistical and defensive purposes. Even six months later, the US refuses to confirm it is using the base for offensive operations. [Los Angeles Times, 3/6/2002] Such bases in Pakistan become a link in a chain of US military outposts in Central Asia. Other countries also falsely maintain that such bases are not being used for military operations in Afghanistan despite clear evidence to the contrary. [Reuters, 12/28/2001]
US aid to Pakistan skyrockets from a mere $5 million in 2001 to over $1.1 billion in 2002 (see February 14, 2002). [US News and World Report, 6/2/2003] In 2003, the New Yorker will report: "Since September 11th, Pakistan has been rescued from the verge of bankruptcy. The United States lifted economic sanctions that were imposed in 1998, after Pakistan began testing nuclear weapons, and it restored foreign aid." Rahimullah Yusufzai, a Pakistani journalist who has interviewed Osama bin Laden, will say, "Essentially, [Pakistani President Pervez] Musharraf was very lucky this happened in his neighborhood." [New Yorker, 7/28/2003] Ironically, there have been reports that the ISI Pakistani intelligence agency was involved in the 9/11 attacks and even that ISI Director Mahmood Ahmed ordered money to be sent to hijacker Mohamed Atta (see October 7, 2001).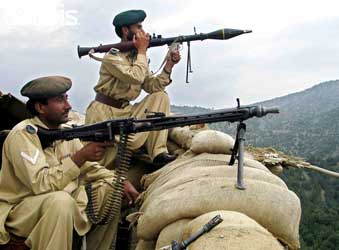 Members of the Frontier Corps near Shakai, in the region of South Waziristan, in August 2004. [Source: Kamran Wazir / Reuters / Corbis]The British newspaper The Observer reports that the Frontier Corps, a Pakistani government paramilitary force operating in Pakistan's tribal regions near the border with Afghanistan, sometimes join in attacks on US-led forces in Afghanistan. The article alleges there are "box loads" of after-action reports compiled after armed clashes near the border, detailing the Frontier Corps working with the Taliban and other allied militants. Some attacks are launched so close to Frontier Corps outposts that Pakistani cooperation with the Taliban is assumed. There has been a dramatic increase in cross-border incidents compared to the same time the year before. An anonymous US official says: "The United States and NATO have substantial information on this problem. It's taking place at a variety of places along the border with the Frontier Corps giving direct and indirect assistance. I'm not saying it is everyone. There are some parts that have been quite helpful… but if you have seen the after-action reports of their involvement in attacks along the Afghan border you would appreciate the problem." The US government continues to downplay such incidents, worried about its relationship with the Pakistani government. A NATO spokesman says: "The real concern is that the extremists in Pakistan are getting safe havens to rest, recuperate and retool in Pakistan and come across the border. The concerns have been conveyed to the Pakistan authorities." [Observer, 6/22/2008]
Email Updates
Receive weekly email updates summarizing what contributors have added to the History Commons database
Donate
Developing and maintaining this site is very labor intensive. If you find it useful, please give us a hand and donate what you can.
Donate Now
Volunteer
If you would like to help us with this effort, please contact us. We need help with programming (Java, JDO, mysql, and xml), design, networking, and publicity. If you want to contribute information to this site, click the register link at the top of the page, and start contributing.
Contact Us