!! History Commons Alert, Exciting News
Profile: Ahmed Abdel Rahman
Ahmed Abdel Rahman was a participant or observer in the following events: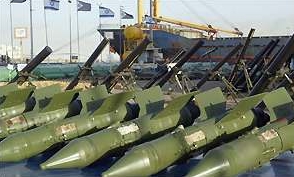 Some of the weapons found aboard the 'Karine A.' [Source: Associated Press / BBC]Israeli commandos seize a freighter, the "Karine A" (or "Karin A"), in the Red Sea 300 miles off the coast of Israel, in an operation dubbed "Operation Noah's Ark." Eli Marum, an Israeli Navy operations chief, says the operation took less than eight minutes and did not require a single shot being fired. "The crew was fully surprised," he says. "They did not anticipate that we would strike so far out into the Red Sea." Israeli officials claim the freighter contains a large store of Iranian-supplied weapons—including Katyusha rockets capable of destroying tanks, mortars, grenades, Kalashnikov assault rifles, anti-tank missiles, high explosives, and two speedboats—for use by Palestinian fighters against Israeli targets. The Palestinian Authority is forbidden by treaty to own such weaponry. Israel also claims that the captain of the freighter, Omar Akawi, has direct ties to the Palestinian Authority and to its leader, Yasser Arafat. (According to Israeli sources, Akawi claims he is a member of Arafat's organization Fatah.) Defense Minister Binyamin Ben-Eliezer tells European Union (EU) authorities that the freighter "was purchased by the Palestinian Authority after September 11" and that "the whole operation was managed and funded by the Palestinian Authority in cooperation with Iran and other sources." [BBC, 1/10/2002; Guardian, 1/21/2002; Jewish Virtual Library, 2009] "What Iran is trying to do is create another base, besides its base in Lebanon" to threaten Israel, says Major General Giora Eiland, the Israeli Army's chief of planning. [New York Times, 1/12/2002]
Arafat's Denials - Initially, Arafat denies any connection whatsoever with the shipment, accusing Israel of fomenting a propaganda attack to thwart US-led efforts to implement a cease-fire agreement, and says Israel "fabricated" the whole affair. Ahmed Abdel Rahman, the secretary general of the Palestinian cabinet, calls the operation "an Israeli trap." Later, Arafat continues to insist that he had no involvement in the affair, but admits that he cannot control "everyone" in the Palestinian Authority. American and Israeli intelligence officials note that the weaponry on board the "Karine A" is similar to that of a "wish list" allegedly drawn up by senior Palestinian officials under Arafat's direction. [New York Times, 1/12/2002; Jewish Virtual Library, 2009]
Propaganda by Israel? - Some, such as Guardian reporter Brian Whitaker, believe that Israel is using the incident to persuade the EU to stop funding the Palestinian Authority. And, Whitaker notes, Israeli lawmakers and pundits such as former President Benjamin Netanyahu are using the incident to argue that the idea of Palestinian statehood be permanently scrapped. Whatever the truth of the matter, the attempts suffer setbacks when documents show that an Iraqi, Ali Mohamed Abbas, purchased the ship, and other records disprove the Israelis' claims about the ship's cargo, which Israel says it picked up in Yemen. It seems clear that the freighter was indeed carrying weapons, but little of Israel's other claims—they were Iranian in origin and intended for Palestinian use against Israel—are borne out by ascertainable facts.
Hezbollah Connection? - American intelligence sources later speculate that the weapons may have been intended for Hezbollah, the Lebanese Shi'ite militant organization with close ties to Iran, and not the Palestinians. Israel is initially resistant to the idea, but Israeli defense sources later tell Israeli reporters that it was "certainly possible that some of the arms were earmarked for Hizbullah," though it is certain that most "were clearly bound for the Palestinian Authority." Whitaker echoes skeptics' disbelief about the Hezbollah claim, noting that there are easier and more secure methods of delivering arms to Lebanon than a risky sea voyage past Israeli patrol boats. [Guardian, 1/21/2002] Israel names reputed senior Hezbollah security officer Imad Mughniyeh as a key figure in the incident. Mughniyeh has not been heard from for years by Western intelligence, but is wanted by the FBI for his participation in kidnapping Americans in Beirut during the 1980s and the hijacking of a TWA passenger plane. The BBC reports, "Correspondents say the Israeli government has been going to great lengths to convince Washington that the Palestinian leader Yasser Arafat is linked to Tehran and the pro-Iranian Hezbollah, and hence to what it sees as international terrorism." [BBC, 1/10/2002]
Iranian Connection Unlikely - And the Iranian connection is similarly hard to swallow. Though Israel insists that the arms prove a new and disturbing connection between Iran and Palestinian militants, Whitaker writes, "most non-Israeli observers of Iran ridicule the idea totally, for a variety of historical, political and religious reasons. It also conflicts with the foreign policies adopted by [Iranian] President [Mohamed] Khatami." He goes on to add: "The trouble with Iran, though—as one Iranian exile remarked last week—is that it has two governments and 10,000 leaders. If you are going to pin blame, you have to determine which one is responsible." Whitaker is referring to Iran's religious and secular leaders, who are often at odds with one another, and to the propensity of Iranian leaders from both sides to conduct independent operations without "official" government sanction. [Guardian, 1/21/2002] The New York Times notes: "Iran's government has dismissed the Israeli accusations. But Iran's Revolutionary Guards have discretionary funds and access to weapons, and they often run operations independent of the elected government of… Khatami." [New York Times, 1/12/2002] The "Karine A" incident helps prompt Bush officials to include Iran as a member of the so-called "axis of evil," disrupting backchannel negotiations between Iranian and US officials (see January 29, 2002).
Entity Tags: Fatah al-Islam, Omar Akawi, Giora Eiland, Hezbollah, Eli Marum, Bush administration (43), Brian Whitaker, Ahmed Abdel Rahman, Yasser Arafat, Hojjat ol-Eslam Seyyed Mohammad Khatami, Imad Mughniyeh, Benjamin Ben-Eliezer, Benjamin Netanyahu, Ali Mohamed Abbas
Timeline Tags: US International Relations
Email Updates
Receive weekly email updates summarizing what contributors have added to the History Commons database
Donate
Developing and maintaining this site is very labor intensive. If you find it useful, please give us a hand and donate what you can.
Donate Now
Volunteer
If you would like to help us with this effort, please contact us. We need help with programming (Java, JDO, mysql, and xml), design, networking, and publicity. If you want to contribute information to this site, click the register link at the top of the page, and start contributing.
Contact Us