!! History Commons Alert, Exciting News
Profile: Alaska Citizens Militia
Alaska Citizens Militia was a participant or observer in the following events: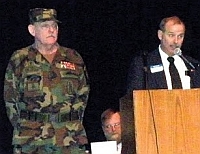 Michigan Militia founder Norm Olson (left) with Bob Bird at a 2010 meeting of a Second Amendment/Constitutional Task Force rally in Kenai, Alaska. [Source: Redoubt Reporter (.com)]Norm Olson, the head of the Alaska Citizens Militia and the co-founder of the Michigan Militia (see April 1994, March 25 - April 1, 1996, and Summer 1996 - June 1997), accepts the nomination of the Alaskan Independence Party (AIP) as its candidate for lieutenant governor. The AIP selects Olson to run with AIP gubernatorial candidate Don Wright. Olson accepts, and sends an email message reading: "I am asking every recipient of this e-mail to get out there and tell people that we are on the verge of a political revolution: Alaska for Alaskans! Nothing more and nothing less. That is my position. If you want political war, we'll give you a good fight!!!!… I want your vote, yes! But beyond that, I want your pledge and your sovereign vow to support me as I stand against the Federal Government's long reach into the private lives of REAL ALASKANS. Our 'Lexington Green' is coming soon [referring to the Revolutionary War Battle of Lexington]. You must make your decision to take your stand as INDEPENDENT SOVEREIGN ALASKANS or continue to suck on the tit of the federal sow! What's it going to be?… I'm not playing political games here, folks. I'm saying that together with Don Wright, the AIP candidate for Governor, that I will work to mobilize the ENTIRE ALASKA MILITIA, MADE UP OF ALL ALASKANS, to stand against the rape and pillage of the federal government of this God-Given blessed gift called Alaska." To a reporter, Olson says: "There's nothing about the Alaskan Independence Party that I don't like. It's just great. And when I was asked to run as their lieutenant governor in the upcoming elections I jumped on the bandwagon and accepted the nomination and threw my hat in the ring, so to speak." However, Olson withdraws his acceptance within 24 hours. He refuses to say why, but issues a statement saying the decision to withdraw came after he was briefed by his longtime friend and ally, militia co-founder Ray Southwell, of "actions taken in the days prior to the meeting." Southwell is running as the AIP candidate for an Alaska House seat. According to Olson's statement, Southwell says, "I've known Norm Olson for 25 years and I knew that once he was appraised of the situation or the circumstances leading up to the Friday meeting that he would withdraw his name." Asked directly what those circumstances were, Southwell tells a reporter: "I can't really go into a lot of detail, other than I don't believe the [AIP] voting leadership was fully informed before making a decision on Bill Walker. I don't do well with politics, and I don't participate with the political games." Southwell is referring to Republican Bill Walker, who was denied a slot on the AIP gubernatorial ticket after losing the Republican primary election. AIP officials have indicated in recent days that Wright may step aside for Walker, but that is not now seen as likely. Southwell says he will not go into further detail, reiterating his opposition to becoming involved in "political games." Olson says he continues to support the AIP: "There were a lot of issues that I would revisit and look at and try to influence. Of course, I'm not a lawmaker in that role [of lieutenant governor], but certainly I'm not quiet, either, and I won't be. I'll remain part of the Alaskan Independence Party, it's just that circumstances would not permit me to go on [as a candidate]." Olson is one of the strongest voices in the AIP for Alaska's secession from the United States. AIP vice chairman J.R. Myers says he was surprised at the party's choice of Olson, and says while he respects Olson, he does not support the militia movement and is not a supporter of secession. The AIP is evolving, Myers says, and may be moving away from its far-right, white supremacist, secessionist roots. [Jenny Neyman, 9/8/2010]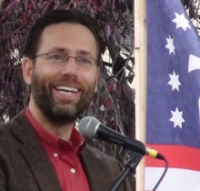 Joe Miller. [Source: Mad As Hell And ... (.com)]Salon reporter and columnist Justin Elliot warns that if Alaska Senate candidate Joe Miller (R-AK) is elected, the militia movement in that state will have a staunch supporter in the US Senate. Elliot writes his column shortly after a controversial video of a recent Miller rally makes national news, showing Miller supporters openly brandishing assault rifles during a march (see July 19, 2010). Norm Olson of the Alaska Citizens Militia (see April 1994, March 25 - April 1, 1996, and Summer 1996 - June 1997) tells Elliot: "It's safe to say that Joe Miller is a friend of patriots. His beliefs and platform favor Second Amendment rights as well as the power of nullification when the federal government intrudes into the private lives of Alaskans." Olson claims his Alaska Militia has several hundred members and supporters; the organization accuses the federal government of committing 17 "acts of war" against the US population, including "firearms restrictions or other disarmament," "mandatory medical anything," "federal patrols," "taking control of children under duress or threat," "federalization of law enforcement," and "surrender powers to a corporation or foreign government." Miller advocates interpreting the Tenth Amendment to "get the government out of our lives," an interpretation classed by critics as "tentherism," which many on the right, including militia organizations, say should be used to force the federal government to cede vast powers to the states and even local authorities. The "tenthers" often focus on dissolving Social Security and other federal "safety net" programs, and ending all controls on gun ownership. Elliot writes: "This is the centerpiece of Miller's political identity. He asserts that there is no constitutional authority for the health care reform law or proposed cap and trade legislation. He advocates a state takeover of federally controlled land in Alaska such as Denali National Park. These are the kinds of positions that are creating buzz in the militia world." Olson's colleague, Ray Southwell, who accompanied Olson to Alaska after both were ejected from the Michigan Militia for their extremist views (see April 1994, March 25 - April 1, 1996, and Summer 1996 - June 1997), has written emails and Web posts in support of Miller in recent weeks. One email reads in part, "We need leaders here to stand against the feds." Another militia member wrote: "Joe Miller is an strong Constitution following patriot, he does not play games.… If we want to make sure Joe Miller keeps on the straight and narrow, WE, ALL OF US, have to make damn sure he and his entire family are safe and sound, because that is a common way to get at a man go for the soft spot family [sic]." Elliot notes that the Alaska militias are not unified in support of Miller, and some, like Schaeffer Cox of the Alaska Peacemakers Militia, say, "He's going to try to run things in a more conservative way, but he's still trying to run things—so he has the same fundamental problem of all the other politicians." [Salon, 7/23/2010] The online news site Alaska Dispatch will note that Cox also founded and leads the Second Amendment Task Force, the group that turned out to display its assault weapons during the recent Miller rally. It also will note that Olson recently attempted to run for lieutenant governor on the Alaskan Independence Party (AIP) ticket (see September 6-7, 2008). The AIP is one of the largest and most well-known secessionist organizations in Alaska, and once listed Todd Palin, the husband of former Alaska Governor Sarah Palin (R-AK), as a member. [KTUU-TV, 9/6/2010; Alaska Dispatch, 9/23/2010] Miller claims to know nothing of AIP's agenda or views, but according to the Alaska Dispatch and the liberal blog Progressive Nation, AIP's statements of beliefs are virtually identical to those espoused by AIP. It's unlikely Miller is unaware of AIP, the blog claims, and asks, "If you like the Tea Party, you gotta love the Alaskan Independence Party, so why has it been shunned even by Alaska politicians?" It goes on to note that when Palin ran for vice president in 2008, the McCain-Palin campaign called attempts to call attention to her family's ties to AIP a "smear." AIP itself has written on its Web site, "No longer a fringe party, the AIP is a viable third party with a serious mission and qualified candidates for elected offices," and boasts the inclusion of former Governor Wally Hickel (AIP-AK) as a member. The blog notes that former AIP member Todd Palin is involved in Miller's campaign. [Progressive Nation, 7/11/2010; Alaska Dispatch, 9/8/2010] Miller will later be shown to employ security guards with militia ties (see October 17, 2010).
Entity Tags: Ray Southwell, Joseph Wayne ("Joe") Miller, Alaska Peacemakers Militia, Alaska Dispatch, Alaska Citizens Militia, Justin Elliot, Progressive Nation, Todd Palin, Second Amendment Task Force, Sarah Palin, Schaeffer Cox, Wally Hickel, Norman ("Norm") Olson
Timeline Tags: Domestic Propaganda
The poster featured in the front window of the Drop Zone. The caption reads: "Fascism. Socialism. New World Order. InfoWars.com." [Source: Life in Spenard (.com)]Investigative reporters and bloggers learn that the private security firm hired by Alaska Senate candidate Joe Miller (R-AK) is also active in right-wing militia and paramilitary activities. They also learn that some of the guards employed by the firm, the Drop Zone (DZ), are active-duty military soldiers, and that the firm is unlicensed and therefore operating outside the law. [Huffington Post, 10/18/2010; Anchorage Daily News, 10/18/2010; Salon, 10/19/2010]
Senate Candidate Has History of Armed Intimidation, Association with Militias - Miller himself has a history of armed intimidation: according to blogger and reporter Shannyn Moore, in 2008 he attempted to stage a "coup d'etat" of the leadership of the Alaska Republican Party, appearing during a meeting with a group of armed security guards. (The attempt, as such, was unsuccessful, and Miller currently enjoys the support of the Alaska Republican Party.) During the 2010 Senate campaign, Miller's supporters drew media attention by brandishing assault rifles during campaign rallies (see July 19, 2010). [Huffington Post, 10/18/2010]
Security Guards on Active Duty with Army - On September 17, Miller's security guards forcibly detained and handcuffed reporter Tony Hopfinger for attempting to question Miller about disciplinary measures taken against him while he was a lawyer for the Fairbanks North Star Borough (see October 17, 2010). The security guards work with DZ, and two of the guards who roughed up Hopfinger are on active duty with the US Army. The two guards, Specialist Tyler Ellingboe and Sergeant Alexander Valdez, are members of the 3rd Maneuver Enhancement Brigade at Fort Richardson. Army public affairs officer Major Bill Coppernoll says neither soldier has permission from their commanding officers to work for DZ, and the Army is still looking into whether previous company or brigade commanders authorized their employment. "They've got to be up front with the chain of command," Coppernoll says. "The chain of command needs to agree they can do that without affecting the readiness and the whole slew of things that are part of being a soldier that they need to do first." DZ owner William Fulton, who was one of the guards who restrained and handcuffed Hopfinger, says it is not his job to ensure that the soldiers complied with Army regulations. "They're adults—they are responsible for themselves," Fulton says. [Anchorage Daily News, 10/18/2010; Salon, 10/19/2010] Hopfinger identifies Ellingboe and Valdez as two of the guards who stood over him during the time he was handcuffed. Hopfinger says Ellingboe and Valdez refused to give him their names and would not identify their company or who they were working for. At one point they told him they were volunteers, he says. [Alaska Dispatch, 10/19/2010] A Defense Department directive from 2008, entitled "Political Activities by Members of the Armed Forces on Active Duty," states in part, "A member of the armed forces on active duty shall not:… [p]erform clerical or other duties for a partisan political committee or candidate during a campaign." [Department of Defense, 2/19/2008
]
Security Firm: Ties to Militias, Blackwater - Fulton is an active member of the Alaska Citizens Militia, where he is titled a "supply sergeant." The organization is led by former Michigan Militia leader Norm Olson (see April 1994, March 25 - April 1, 1996, and Summer 1996 - June 1997), who recently attempted to run for lieutenant governor of Alaska under the auspices of the secessionist Alaskan Independence Party (AIP—see September 6-7, 2008). [Yahoo! News, 10/20/2010; PalinGates, 10/20/2010] Many DZ employees have bragged about their connections to far-right elements in Alaska's political and paramilitary scenes, and have said that the firm employs a number of former Blackwater security personnel. The firm displays a large poster of President Obama as "The Joker" in its front window and a link to InfoWars.com, a right-wing conspiracy Web site hosted by Alex Jones. The owner of the Drop Zone, William Fulton, has boasted to patrons about his partners' participation in renditions and "black ops" overseas, and likes to show his .50-caliber sniper rifle to prospective customers. Fulton has frequently told patrons about his fondness for Fox News talk show host Glenn Beck, saying to one, "Glenn talks to the crazies," who are his best customers. Fulton also has suspected ties to the Alaskan Independence Party, which once claimed Todd Palin, former Governor Sarah Palin's husband, as a member. [Huffington Post, 10/18/2010; Anchorage Daily News, 10/18/2010; Life in Spenard, 10/18/2010; Salon, 10/19/2010]
Miller's Ties to Militias - Alaska Citizens Militia leader Ray Southwell, a longtime crony of Olson's and a fellow leader of the Alaska Citizens Militia, recently wrote of meeting Miller at a militia leader's home in Soldotna, Alaska. Southwell wrote in a militia forum that he recently encouraged Miller to run for state office: "We need leaders here to stand against the feds." In that same forum, Olson posted his endorsement of Miller's candidacy. [PalinGates, 10/20/2010]
Expired License - Investigating bloggers also find that the Drop Zone's license to do business as a security firm (under the name "Dropzone Security Services") expired in December 2009. The firm updated its license on September 18, 2010, the day after its guards detained and handcuffed Hopfinger, but only renewed its license to trade, not its license to provide security. [The Immoral Minority, 10/19/2010; Yahoo! News, 10/20/2010; PalinGates, 10/20/2010] Fulton tells a reporter that he is not a security guard and that DZ is not a security guard agency, therefore he needs no license to operate as a security firm. Instead, he says, DZ is a "contract agency" and that he and his people are considered "security agents," not guards. "We don't do anything covered under the security [statutes]," he says. "We don't do anything that the state has any authority to tell us what to do." He denies having any employees, and says he hires specific people on a contract basis. DZ is primarily a military supply store, Fulton says, and only does security contracts "three or four times a month." He admits to doing business with Miller in the past, but refuses to go into detail. He goes on to say that his guards at the Miller event were unarmed, and his "contractors" only carry weapons when they undertake "fugitive recovery" jobs: "All the guys we use are professionals, and they act professionally and dress professionally." Hopfinger disagrees with Fulton's contention that he is a security "agent" as opposed to a "guard," saying: "He certainly acted like an aggressive security guard and he may have broken the law. It was an illegal detention and an illegal arrest." Of Miller, Hopfinger says the candidate is exhibiting "poor judgment… to have Fulton and active-duty soldiers be his bodyguards." No other Alaska political candidate he has interviewed, including Miller's Republican opponent Lisa Murkowski (R-AK), has security guards with them, he says. [Alaska Dispatch, 10/19/2010]
Investigation - The firm is being investigated by the Alaska Department of Public Safety, both for its handling of the Hopfinger incident and for its unlicensed status. [Alaska Dispatch, 10/19/2010]
Entity Tags: Alaska Citizens Militia, Fairbanks North Star Borough, Bill Coppernoll, US Department of the Army, Alaska Department of Public Safety, Alaskan Independence Party, Alaska Republican Party, Barack Obama, Alexander Valdez, Tyler Ellingboe, William Fulton, Todd Palin, Lisa Murkowski, Tony Hopfinger, Glenn Beck, Norman ("Norm") Olson, Joseph Wayne ("Joe") Miller, Sarah Palin, Ray Southwell, The Drop Zone, Shannyn Moore
Timeline Tags: Domestic Propaganda
Email Updates
Receive weekly email updates summarizing what contributors have added to the History Commons database
Donate
Developing and maintaining this site is very labor intensive. If you find it useful, please give us a hand and donate what you can.
Donate Now
Volunteer
If you would like to help us with this effort, please contact us. We need help with programming (Java, JDO, mysql, and xml), design, networking, and publicity. If you want to contribute information to this site, click the register link at the top of the page, and start contributing.
Contact Us