!! History Commons Alert, Exciting News
Profile: Cybercast News Service (CNS)
a.k.a. Conservative News Service
Cybercast News Service (CNS) was a participant or observer in the following events: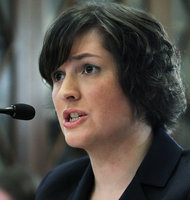 Sandra Fluke. [Source: Alex Wong / Getty Images / New York Times]Conservative radio talk show host Rush Limbaugh insults Sandra Fluke, the Georgetown University law student who testified in favor of federal law mandating that health care providers pay for contraception (see March 1, 2012), as a "slut" and a "prostitute" who wants the government to pay her for having sex. On his radio show, Limbaugh, who wrongly identifies her as "Susan" Fluke, says: "What does it say about the college coed Susan Fluke, who goes before a congressional committee and essentially says that she must be paid to have sex? What does that make her? It makes her a slut, right? It makes her a prostitute. She wants to be paid to have sex. She's having so much sex she can't afford the contraception. She wants you and me and the taxpayers to pay her to have sex. What does that make us? We're the pimps. The johns, that's right. We would be the johns—no! We're not the johns. Well—yeah, that's right. Pimp's not the right word. Okay, so, she's not a slut. She's round-heeled. I take it back." Think Progress reporter Alex Seitz-Wald comments on Limbaugh's characterization, "While it's probably not even worth engaging with Limbaugh on the facts, Fluke's testimony was about a friend who is a lesbian and needed birth control for non-sexual medical reasons, so he's only wrong about three times over, and offensive many more times over than that." Seitz-Wald notes that Fluke never discussed her own use, or non-use, of contraception, nor did she allude to her sexual activities at all. [Media Matters, 2/29/2012; Think Progress, 2/29/2012; Think Progress, 3/1/2012]
Misrepresentation - Seitz-Wald will note that Limbaugh is deliberately misrepresenting Fluke's position and the position of Congressional Democrats. "Fluke's testimony, and the entire contraception debate, is about insurance companies paying for contraception as part of their health coverage, the… way they pay for any other medication, such as Viagra. Morevoer, Fluke's testimony was not about herself, but about a friend who need contraception to fight cancer and other fellow law students. This conservative narrative, which is pure fantasy, seems to be based on a single bogus article from Cybercast News Service (CNS), which Limbaugh repeatedly cites, with the ludicrous headline, 'Sex-Crazed Co-Eds Going Broke Buying Birth Control, Student Tells Pelosi Hearing Touting Freebie Mandate.'" [CNS News, 2/29/2012; Think Progress, 3/2/2012]
Other News Outlets Join Limbaugh - Other conservative news outlets join Limbaugh in attacking Fluke and other women who use contraception. In the article cited by Limbaugh, CNS's Craig Bannister says that "sex-crazed co-eds" like Fluke should cut back on the amount of sex they're having to pay for other needs such as books and food. Fox News's Trace Gallagher mocks Fluke, saying: "And see, I was gonna go to law school, but I thought all you did was study in law school, right? So, I guess I was wrong on that." Fox News correspondent Monica Crowley says the government should not pay Fluke and others to have "recreational sex." CNN commentator Dana Loesch calls Fluke and other women "nymphos" for wanting access to contraceptives, and says Fluke and feminists "support… female genocide." [Media Matters, 2/29/2012; CNS News, 2/29/2012]
Fox Business Commentator: Fluke's Testimony Part of a Pro-Abortion Scheme by House Minority Leader - On Fox Business Channel's Lou Dobbs Tonight, regular guest Bill Donohue calls Fluke a "little brat." Dobbs asks Donohue to comment on what he calls Fluke's demand that she be given free contraception, a mischaracterization of Fluke's testimony (and one contradicted by the clip of her testimony Dobbs plays before Donohue's comments). Donohue begins by lambasting Georgetown for having a group called "Hoyas for Choice," which he calls "Hoyas for Abortion," but not groups like "Hoyas for Racism" or "Hoyas for Anti-Semitism." Donohue suggests that the university and Hoyas for Choice raise "the nine dollars a month" Fluke needs for her personal contraception needs, and Dobbs notes that Georgetown is "one of the most expensive universities in the country." Donohue attacks Fluke for "obviously dressing well" but then asking taxpayers to pay for her contraception and, without basis in fact, for her university education to boot. Why aren't taxpayers funding his anti-gout medication? he asks. "This is what we've come down to in this country," he concludes. "You have these little brats who come on TV and they testify and they say, 'I want, I want, I want,' and somehow I have a moral responsibility? They have a lien on me to pay this? It's all about getting the Catholic Church, obviously, to pay for their abortion-inducing drugs, which is why we're having this debate." Donohue says that Fluke's testimony is part of a scheme by House Minority Leader Nancy Pelosi (D-CA), "who actually brought her on there to speak," to force the Catholic Church to amend its position on abortion. [Media Matters, 2/29/2012]
'Shockingly Ugly Hatred' - Conservative blogger Charles Johnson, who in recent years has become highly critical of the race- and gender-based rhetoric from the right, writes that the right's reaction to Fluke constitutes "shockingly ugly hatred," and says Limbaugh's attack is "another step into the gutter." [Charles Johnson, 2/29/2012] Atlantic columnist Ta-Nehisi Coates agrees with Johnson, noting that Limbaugh is not just an "entertainer," but a powerful opinion leader of the Republican Party, and says that Limbaugh's comments are part of what Coates calls "the normalization of cruelty" and "evidence of the lowest aspects of humanity." [Atlantic, 3/1/2012] Eric Boehlert, a senior writer at the liberal media watchdog Web site Media Matters, calls Limbaugh's "radio outburst" an example of his "rancid misogyny," and writes: "[I]t was perhaps the talk show host's incessant need to bully powerless people from the safety of his studio that was so striking. That, and the glee Limbaugh seemed to take in not only maligning the young woman, but her parents as well. It's jaw-dropping." Boehlert goes on to remind readers that Limbaugh is not just a voice on the radio or an entertainer, but "the voice of America's conservative movement, as well as the Republican Party." [Media Matters, 3/1/2012]
House Democrats Call for Condemnation - House Democrats, including Pelosi, call for Republican Congressional leaders to condemn Limbaugh's remarks (see February 29, 2012).
Statement from Law Student - Fluke will issue a statement repudiating Limbaugh's rhetoric (see March 1, 2012).
Continued Attacks - Limbaugh will continue his attacks on Fluke the next day (see March 1, 2012).
Entity Tags: Eric Boehlert, Alex Seitz-Wald, Trace Gallagher, Bill Donohue, Dana Loesch, Craig Bannister, Charles Johnson, Ta-Nehisi Coates, Cybercast News Service, Rush Limbaugh, Georgetown University, Sandra Fluke, Fox Business Channel, Lou Dobbs, Fox News, Nancy Pelosi, Monica Crowley, Republican Party
Timeline Tags: Domestic Propaganda
Conservative talk show host Rush Limbaugh attempts to explain his three-day tirade against Georgetown University law student Sandra Fluke (see February 29, 2012, March 1, 2012, and March 2, 2012) and expand on his apology for his comments (see March 3, 2012). In the process, he insults "liberals" and continues his attack on Fluke, though he now reframes his attacks on Fluke in political terms and avoids the personal defamation in which he had previously engaged. "I want to explain why I apologized to Sandra Fluke in the statement that was released on Saturday," he says. "I've read all the theories from all sides and, frankly, they are all wrong. I don't expect—and I know you don't, either—morality or intellectual honesty from the left. They've demonstrated over and over a willingness to say or do anything to advance their agenda. It's what they do. It's what we fight against here every day. But this is the mistake I made. In fighting them on this issue last week, I became like them. Against my own instincts, against my own knowledge, against everything I know to be right and wrong I descended to their level when I used those two words ['slut' and 'prostitute'] to describe Sandra Fluke. That was my error. I became like them, and I feel very badly about that. I've always tried to maintain a very high degree of integrity and independence on this program. Nevertheless, those two words were inappropriate. They were uncalled for. They distracted from the point that I was actually trying to make, and I again sincerely apologize to Ms. Fluke for using those two words to describe her. I do not think she is either of those two words. I did not think last week that she is either of those two words. The apology to her over the weekend was sincere. It was simply for using inappropriate words in a way I never do, and in so doing, I became like the people we oppose. I ended up descending to their level. It's important not to be like them, ever, particularly in fighting them. The old saw, you never descend to the level of your opponent or they win. That was my error last week. But the apology was heartfelt. The apology was sincere. And, as you will hear as I go on here, it was not about anything else. No ulterior motive. No speaking in code. No double entendre or intention. Pure, simple, heartfelt. That's why I apologized to Sandra Fluke on Saturday, 'cause all the theories, all the experts are wrong.… Now, all of this is what I should have told you last week, 'cause this is what happened. I use satire. I use absurdity to illustrate the absurd. The story at the Cybercast News Service characterized a portion of her testimony as sounding like (based on her own financial figures) she was engaging in sexual activity so often she couldn't afford it. I focused on that because it was simple trying to persuade people, change people's minds." He continues attacking Fluke for her attempts to persuade Georgetown University to include contraception in its student health insurance coverage. He calls her a "longtime birth control activist" who went back to law school in order to engage in demagoguery at Georgetown over the contraception issue, and questions the testimony she was prepared to offer before a House committee in support of insurer-paid contraception coverage (see March 1, 2012). "In fact, she told stories less about birth control as a social tool (which was, of course, the left's true agenda) and more about birth control as a medication for treating other conditions, such as pregnancy," Limbaugh says. "To the left, pregnancy is a disease. If you're listening to me for the first time, you may say, 'Well, that's crazy.' It's not. They treat pregnancy as a disease for political purposes. All of this, folks, is political. Sandra Fluke gave vague examples based on unnamed friends who she says couldn't afford birth control to treat medical conditions they had, since Georgetown University wouldn't pay for them. Georgetown paid for all of their other medical treatment, but it wouldn't pay for the birth control pills that these doctors prescribed should they be necessary—or so she says. We still don't know who any of these friends of hers are, these other women, and we don't know what happened to them. Her testimony was hearsay, and it was unprovable." He says to Fluke, "If birth control insurance is important to you as an enrolling student, and you find out that Georgetown doesn't offer it, you might want to attend (or work at) a school that isn't run by Catholics." Fluke and others "intentionally target schools like Georgetown to advance an agenda of ultimately forcing them to abandon their religious beliefs," Limbaugh says. "All of this is to serve Obama's agenda (see March 2, 2012). The agenda he worked all summer on. He abandoned it only when America stood up, united, and this said they would not tolerate tearing down religion to increase government's control over our lives.… They [Democrats] use Sandra Fluke to create a controversy. Sandra Fluke used them to advance her agenda, which is to force a religious institution to abandon their principles in order to meet hers." [Reuters, 3/5/2012; Rush Limbaugh, 3/5/2012] Think Progress reporter Alex Seitz-Wald observes, "While this is perhaps some progress from Limbaugh's overtly sexist slurs of last week, it's hardly the words of a man genuinely sorry for his ad hominem attacks on a women's health advocate." [Think Progress, 3/5/2012]
Email Updates
Receive weekly email updates summarizing what contributors have added to the History Commons database
Donate
Developing and maintaining this site is very labor intensive. If you find it useful, please give us a hand and donate what you can.
Donate Now
Volunteer
If you would like to help us with this effort, please contact us. We need help with programming (Java, JDO, mysql, and xml), design, networking, and publicity. If you want to contribute information to this site, click the register link at the top of the page, and start contributing.
Contact Us