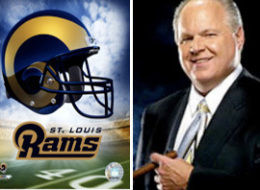 Photo illustration of Rush Limbaugh and the St. Louis Rams logo. [Source: Huffington Post]Conservative radio host Rush Limbaugh is removed from a group bidding to buy the National Football League's St. Louis Rams. The decision is made by the group's leader and largest potential investor, Dave Checketts, who owns the National Hockey League's St. Louis Blues. Checketts says that Limbaugh's participation has become too controversial to allow the radio host to continue participating in the effort to buy the NFL team. Limbaugh earned the ire of many NFL players and owners over several racially charged comments he made about the league; Jim Irsay, owner of the Indianapolis Colts, predicted that Limbaugh's potential ownership would have been met with significant opposition. The head of the NFL Players Association, DeMaurice Smith, an African-American, has urged players to speak out against Limbaugh's bid. NFL commissioner Roger Goodell says of the league, "divisive comments are not what the NFL is all about." He continues: "I've said many times before, we're all held to a high standard here. I would not want to see those comments coming from people who are in a responsible position in the NFL—absolutely not." African-American civil rights activist Reverend Al Sharpton praises the decision. "It is a moral victory for all Americans—especially the players that have been unfairly castigated by Rush Limbaugh," he says. "This decision will also uphold the unifying standards of major sports." (ESPN 10/15/2009)
Blaming Liberals and Democrats - For his part, Limbaugh blames Democrats and liberals. "This is not about the NFL, it's not about the St. Louis Rams, it's not about me," he tells his listeners. "This is about the ongoing effort by the left in this country, wherever you find them, in the media, the Democrat Party, or wherever, to destroy conservatism, to prevent the mainstreaming of anyone who is prominent as a conservative. Therefore, this is about the future of the United States of America and what kind of country we're going to have." (ESPN 10/15/2009) Columnist Robert George calls the NFL "hypocritical" for not welcoming Limbaugh's bid for ownership, noting that the league continues to allow convicted criminals to play, and notes that "foul-mouthed rappers like Jay-Z" are part owners of teams in the National Basketball League. (George 10/15/2009)
History of Racially Charged Comments - In 2003, Limbaugh was forced to resign from ESPN's Sunday NFL Countdown broadcast after alleging that quarterback Donovan McNabb, an African-American, was the beneficiary of preferential treatment because of his race (see September 28 - October 2, 2003). In 2007, Limbaugh compared NFL games to gang fights (see January 19, 2007 and After).