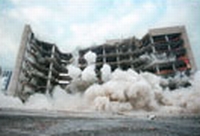 The Murrah Federal Building is demolished. [Source: The Oklahoman]The wrecked hulk of the Murrah Federal Building, destroyed in the Oklahoma City bombing a month ago (see 8:35 a.m. - 9:02 a.m. April 19, 1995), is brought down in a planned demolition. The demolition consists of 150 pounds of dynamite placed in 300 carefully selected locations, and costs the federal and state governments around $404,000. The entire demolition takes about eight seconds. Retired highway department employee Lawrence Glover says: "You can't stand to look at something like that forever. It's like when a family member dies and your heart is broken, but you've got to bury them and try to get back to the land of the living. Even when you don't think you ever can." Linda West of nearby Yukon says: "I had stayed away before now because I felt guilty. I felt like I was intruding somehow. Now that it's all over, I need some sort of—it's not closure, because there is no closure on this thing, but it's like going to the cemetery after the funeral. I was listening to a radio talk show about how most people didn't know why they came here, they just felt like they had to. I'm like that. I don't know why, but I had to." Hundreds of spectators watch the demolition in almost complete silence. Afterwards, many cry, hug one another, and slowly leave the scene. Many at the scene believe a memorial to the dead, and to the responders and rescue workers who saved so many from the rubble, should be erected on the site; others say a children's playground or library would be fitting. Onlooker Bruce Ligon says, "It doesn't really matter what they choose, because nobody in this town, or in this country either, is ever going to forget what happened." (Pressley 5/24/1995; Fox News 4/13/2005) Authorities had considered using cranes and wrecking balls instead of explosives to bring the building down, in concern that a second explosion, no matter how controlled, might further traumatize city residents. "The psychological ramifications were a real consideration of everyone involved in the decision," Douglas Loizeaux, vice president of Controlled Demolition Inc, whose firm handles the demolition process, said last week. "There was a serious discussion about whether we would be traumatizing people even more by having another explosion. But by using implosion, we can bring the building down weeks sooner than by using a crane, and so the mending process can begin that much quicker." Dusty Bowenkamp, a psychological nurse from Los Angeles who is coordinating the emergency mental health services of the American Red Cross in Oklahoma City, agreed with Loizeaux's assessment. The building, she said last week, is "a magnet for people with grief." She said she and her colleagues had discussed the ramifications of a second explosion, and talked with dozens of people who helped bring the dead and injured out of the rubble and others who carried blast victims into hospitals or the morgue. A few, she said, thought imploding the building was a bad idea: "it's too much like what happened before—too much like the bomb." The city residents were informed well in advance of the planned demolition so it would not "retrigger more fear." The lawyer for accused bomber Timothy McVeigh, Stephen Jones (see May 8, 1995), had filed a motion to delay the demolition so he could examine the building for evidence, but that motion was denied. (Terry 5/16/1995; Belluck 5/16/1995) Two days ago, a team of people hired by Jones did examine the building for clues; that team included an explosives expert, an architect, and a camera crew. Jones explained that he wanted to understand "the dynamics of the bomb" and "the physics of the explosion.… There needs to be a separate record from that of the government. There is a criminal litigation and civil litigation. All sides will need a record, and the government's record wouldn't necessarily be available." (Stickney 1996, pp. 222-223) A brick wall from another damaged building stands nearby. Written on it in dark red paint is:

4-19-95.

We Search for the Truth.

We Seek Justice.

The Courts Require it.

The Victims Cry for it.

And GOD Demands it! (Serrano 1998, pp. 174)