!! History Commons Alert, Exciting News
Profile: Jim Irsay
Jim Irsay was a participant or observer in the following events:
Conservative radio host Rush Limbaugh tells his listeners that professional football games often look like fights between two African-American street gangs. Discussing a recent National Football League (NFL) game which featured some apparently objectionable celebrating by players after scoring a touchdown, Limbaugh says that such "over the top" celebrations are sparked by "cultural" differences between black and white players. "There's something culturally wrong that is leading to all this… classless" behavior, he says, and continues: "Look, let me put it to you this way: the NFL all too often looks like a game between the Bloods and the Crips without any weapons. There, I said it." [Media Matters, 10/12/2009] Two years later, Limbaugh will address his comment on his broadcast. He will fail to apologize for the remark, and will say instead: "It was not racial. Bloods and Crips makes it look racial. But the way I chose to describe it. I could have perhaps chosen a different term." Limbaugh claims that his remark was taken "out of context" by the news media, and cites the "hypocrisy" of the media in reporting his comments as possibly racially offensive. [Media Matters, 10/14/2009] Limbaugh will be thwarted in his 2009 attempt to buy the St. Louis Rams NFL franchise (see October 15, 2009) because of his racially inflammatory remarks against black football players, including this one and a 2003 slur involving African-American quarterback Donovan McNabb (see September 28 - October 2, 2003). Indianapolis Colts owner Jim Irsay will tell other owners, "When there are comments that have been made that are inappropriate, incendiary, and insensitive… our words do damage, and it's something that we don't need." NFL commissioner Roger Goodell will call Limbaugh's comments "divisive" and something that cannot be tolerated from an NFL owner. [New York Post, 10/13/2009]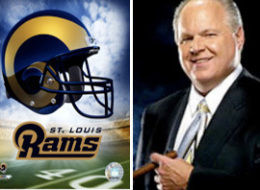 Photo illustration of Rush Limbaugh and the St. Louis Rams logo. [Source: Huffington Post]Conservative radio host Rush Limbaugh is removed from a group bidding to buy the National Football League's St. Louis Rams. The decision is made by the group's leader and largest potential investor, Dave Checketts, who owns the National Hockey League's St. Louis Blues. Checketts says that Limbaugh's participation has become too controversial to allow the radio host to continue participating in the effort to buy the NFL team. Limbaugh earned the ire of many NFL players and owners over several racially charged comments he made about the league; Jim Irsay, owner of the Indianapolis Colts, predicted that Limbaugh's potential ownership would have been met with significant opposition. The head of the NFL Players Association, DeMaurice Smith, an African-American, has urged players to speak out against Limbaugh's bid. NFL commissioner Roger Goodell says of the league, "divisive comments are not what the NFL is all about." He continues: "I've said many times before, we're all held to a high standard here. I would not want to see those comments coming from people who are in a responsible position in the NFL—absolutely not." African-American civil rights activist Reverend Al Sharpton praises the decision. "It is a moral victory for all Americans—especially the players that have been unfairly castigated by Rush Limbaugh," he says. "This decision will also uphold the unifying standards of major sports." [ESPN, 10/15/2009]
Blaming Liberals and Democrats - For his part, Limbaugh blames Democrats and liberals. "This is not about the NFL, it's not about the St. Louis Rams, it's not about me," he tells his listeners. "This is about the ongoing effort by the left in this country, wherever you find them, in the media, the Democrat Party, or wherever, to destroy conservatism, to prevent the mainstreaming of anyone who is prominent as a conservative. Therefore, this is about the future of the United States of America and what kind of country we're going to have." [ESPN, 10/15/2009] Columnist Robert George calls the NFL "hypocritical" for not welcoming Limbaugh's bid for ownership, noting that the league continues to allow convicted criminals to play, and notes that "foul-mouthed rappers like Jay-Z" are part owners of teams in the National Basketball League. [NBC DFW, 10/15/2009]
History of Racially Charged Comments - In 2003, Limbaugh was forced to resign from ESPN's Sunday NFL Countdown broadcast after alleging that quarterback Donovan McNabb, an African-American, was the beneficiary of preferential treatment because of his race (see September 28 - October 2, 2003). In 2007, Limbaugh compared NFL games to gang fights (see January 19, 2007 and After).
Email Updates
Receive weekly email updates summarizing what contributors have added to the History Commons database
Donate
Developing and maintaining this site is very labor intensive. If you find it useful, please give us a hand and donate what you can.
Donate Now
Volunteer
If you would like to help us with this effort, please contact us. We need help with programming (Java, JDO, mysql, and xml), design, networking, and publicity. If you want to contribute information to this site, click the register link at the top of the page, and start contributing.
Contact Us