!! History Commons Alert, Exciting News
Profile: Joseph Hudson
Joseph Hudson was a participant or observer in the following events: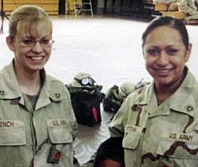 Privates Jessica Lynch and Lori Piestewa. [Source: CNN]US Army Private First Class Jessica Lynch, a supply clerk, is injured in a Humvee crash in the city of Nasiriyah. Lynch's convoy had become separated from its mates and wound up lost in Nasiriyah, where it came under attack. An Army investigation later shows that Lynch and her colleagues were lost due to exhaustion, several wrong turns, and faulty communications (see July 10, 2003), all of which contribute to the convoy's misdirection. Eleven US soldiers die in the ambush; Lynch and five others, including her close friend Private Lori Piestewa, are taken captive (see October 24, 2003). Piestewa is mortally wounded and will die within a few hours. Besides Lynch and Piestewa, the others taken prisoner are Sergeant James Riley; Specialists Edgar Hernandez, Joseph Hudson, and Shoshana Johnson; and Private First Class Patrick Miller. [Baltimore Sun, 11/11/2003; POW Network, 6/22/2006]
Photos of five US captives broadcast by Al Jazeera. The soldiers are, clockwise from the left: Spc. Shoshana Johnson, Spc. Edgar Hernandez, Spc. Joseph Hudson, Pfc. Patrick Miller, and Sgt. James Riley. [Source: Al Jazeera / CNN]The Arab television network Al Jazeera broadcasts graphic close-up shots of dead US soldiers taken during the same ambush that saw the capture of Private Jessica Lynch (see March 23, 2003). The bodies are sprawled on a concrete floor; a smiling Iraqi fighter points out the individual bodies for the camera. At least two of the soldiers appear to have been shot, one between the eyes. In the same broadcast, four exhausted and shaken captured US soldiers, also members of Lynch's unit, are shown giving short and uninformative answers to their captors. Still photos of five soldiers are shown by the network. [Washington Post, 6/17/2003] The still images of the prisoners are shown on at least one US news show, NBC's "Dateline." [New York Times, 3/28/2003] The parents of one of the captives, Shoshana Johnson, learned of their daughter's capture from a Spanish-language news broadcast on Telemundo before they were informed by the Pentagon. Joseph Hudson's mother learned of her son's capture from a Filipino television broadcast. Johnson's sister, Army Captain Nikki Johnson, says that it is not necessarily wrong for footage of American POWs to be broadcast because "[y]ou get to see the condition the soldiers are in now. It'll be very hard for them to mistreat them and try and say, 'Oh, we found them that way.'" Johnson's father, Claude, who fought in the 1991 Gulf War as an Army sergeant, says, "The instant we found out they were prisoners, we should have been talking to the people in the Red Cross and ensuring that somebody got out there. We can't turn the clock back. What is done is done. Now is the time to get the people from the Red Cross or whatever organization is available to go in and make a true assessment, and then we can go from there." Miller's half-brother Thomas Hershberger says, "We are glad he wasn't killed. We hope he makes it back. We all love him, and we hope he is treated humanely." Hudson's mother Anecita says tearfully, "I just would like [to say] to the president of United States of America [to] do something about it—to save my son. And I want him to come home." [CNN, 5/25/2003] Excluding Lynch, the US soldiers will be freed 22 days later; Lynch will be rescued from a Nasiriyah hospital nine days later (see June 17, 2003).
Email Updates
Receive weekly email updates summarizing what contributors have added to the History Commons database
Donate
Developing and maintaining this site is very labor intensive. If you find it useful, please give us a hand and donate what you can.
Donate Now
Volunteer
If you would like to help us with this effort, please contact us. We need help with programming (Java, JDO, mysql, and xml), design, networking, and publicity. If you want to contribute information to this site, click the register link at the top of the page, and start contributing.
Contact Us