!! History Commons Alert, Exciting News
Profile: Mac Stipanovich
Mac Stipanovich was a participant or observer in the following events: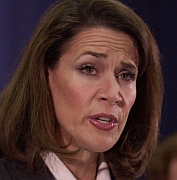 Katherine Harris. [Source: AP/Pete Cosgrove]Florida Secretary of State Katherine Harris, one of eight co-chairs of the Florida Bush election campaign and the state official ultimately in charge of election procedures, is introduced to the politics of the Florida presidential recount by a ringing telephone. She is awakened at 3:30 a.m. by a call from the Bush campaign chairman Donald Evans, who puts Governor Jeb Bush, George W. Bush's brother, on the line. Governor Bush asks coldly, "Who is Ed Kast, and why is he giving an interview on national television?" Harris is unsure who Kast is for a moment. Kast is the assistant director of elections, whose division reports to her office. He is on television talking about the fine points of Florida election law (see 3:30 a.m. November 8, 2000), when and how manual recounts can be requested, and, most importantly, the driving concept of "voter intent"—if a ballot shows the intent of the voter to cast a vote for a candidate, then that vote will be counted. The governor does not want the media narrative to focus on recounts and voter intent, and has already tasked his general counsel with the job of getting Kast off the air as quickly as possible. (CNN "loses" Kast's transmission in mid-sentence minutes later.) Democrats have questioned the propriety of having the Florida official with ultimate authority over elections being a state chairman for a presidential campaign before now, and in the coming days, the question will devolve into outright accusations of partisanship and impropriety. Harris has called herself "thrilled and honored" to be part of the Bush campaign, and served as a Bush delegate during the Republican National Convention. During the campaign, she often traveled around Florida representing the ticket. Representative Robert Wexler (D-FL) says of Harris: "She is clearly a partisan Republican—and there's nothing illegal about that. And I give everyone the benefit of the doubt, expecting them to perform their public functions appropriately. But her actions will speak volumes about whether she is qualified. If she does this fairly, fine. But if she acts as an emissary for Bush to steal this election in Florida, she will delegitimize Florida's vote count." Harris gives some initial media interviews on November 8, and according to a 2004 Vanity Fair article, "appear[s] overwhelmed and uninformed." She does not know what county elections supervisors have been doing, and seems unaware of the chaos surrounding the Palm Beach County "butterfly ballot" (see November 9, 2000) and other ballot disputes. The Bush campaign senses trouble and assigns Harris a "minder," Florida Republican lobbyist Mac Stipanovich, a former campaign advisor for Jeb Bush and a close Bush ally. Stipanovich, the Vanity Fair article will observe, "appealed to Harris's grandiosity. (Her emails replying to Bush supporters later revealed that she had begun identifying with Queen Esther, who, in the Old Testament, saved the Jews from genocide. 'My sister and I prayed for full armour this morning,' she wrote. 'Queen Esther has been a wonderful role model.') He told her that nothing less than the course of history rested on her shoulders. 'You have to bring this election in for a landing,' he repeated again and again." Under Stipanovich's tutelage, Harris quickly learns to stay on message and repeat the given talking points. Stipanovich, who remains out of sight of the media, will later describe his daily routine with Harris to documentary filmmaker Fred Silverman, saying: "I would arrive in the morning through the garage and come up on the elevators, and come in through the cabinet-office door, which is downstairs, and then in the evening when I left, you know, sometimes it'd be late, depending on what was going on, I would go the same way. I would go down the elevators and out through the garage and be driven—driven to my car from the garage, just because there were a lot of people out front on the main floor, and, at least in this small pond, knowledge of my presence would have been provocative, because I have a political background." [Salon, 11/13/2000; Vanity Fair, 10/2004] Most importantly to the Bush campaign, Harris is a part of the campaign's message propagation plan to insist that Bush has indisputably won the Florida election (see After 3:30 a.m. November 8, 2000).
Entity Tags: George W. Bush presidential campaign 2000, Donald L. Evans, CNN, Ed Kast, George W. Bush, Katherine Harris, Vanity Fair, John Ellis ("Jeb") Bush, Fred Silverman, Mac Stipanovich, Robert Wexler
Timeline Tags: 2000 Elections
The deadline of midnight November 17 for Florida to count and tally all overseas absentee ballots, under Florida Administrative Code, Chapter 1S-2.013, arrives. [Leip, 2008] A US News and World Report article indicates that the deadline is noon November 18, not midnight of November 17, though this indication is erroneous. Absentee ballots continue to trickle in and be counted throughout the day and into the evening. [US News and World Report, 12/13/2000; Authentic History, 7/31/2011] Florida Secretary of State Katherine Harris, the co-chair of Florida's Bush campaign team (see After 3:30 a.m. November 8, 2000 and After), issues an opinion—in conflict with Florida state law—saying that absentee ballots can be counted even if received by mail up to 10 days after November 17 as long as they were sent from outside the country and postmarked by Election Day. Rumors of large numbers of military absentee ballots, presumably favoring George W. Bush in number, and a large number of ballots from American Jews in Israel, presumably favoring Al Gore, have swirled for days among the media and in both campaigns. A 2004 article by Vanity Fair will speculate that Mac Stipanovich, Harris's "handler" from the Bush campaign, made the decision to have Harris issue her opinion after deciding that the likelihood of Bush gaining votes from the military absentee ballots was higher than the speculative Gore bounce from the perhaps-mythical flurry of votes from Israel. [Vanity Fair, 10/2004] Bush gains 123 votes from the absentee ballots (see November 15-17, 2000).
Florida Secretary of State Katherine Harris, the co-chair of Florida's Bush campaign team (see After 3:30 a.m. November 8, 2000 and After), rejects a request by Palm Beach County election officials to give them a brief extension on turning in their recount tallies (see 3:00 p.m., November 16, 2000). This morning, Republican lawyers successfully disrupted the recounting for an hour by arguing about the order in which precincts should be handled (see 4:00 a.m. November 26, 2000). The county misses the 5:00 p.m. deadline by less than three hours, and thusly leaves almost 2,000 ballots unrecounted, though officials continue to count the remaining ballots. Harris decides to reject Palm Beach's request after conferring with Mac Stipanovich, a Florida Republican lobbyist serving as her political "handler" (see Mid-Morning, November 8, 2000). [US News and World Report, 12/13/2000; Vanity Fair, 10/2004; Leip, 2008] Some media reports say that Democrat Al Gore picked up some 46 votes in the Palm Beach recount, though these votes are not added to the tally; Harris dubs Palm Beach's entire recount null and void. [Guardian, 11/27/2000; Vanity Fair, 10/2004] Steven Meyer, an election observer for the Democratic Party, writes that when the 5:00 deadline arrived, election officials "had reviewed the challenged ballots in all but 51 of the 637 precincts and Gore had received a net gain of 192 votes in the manual recount." The entire recount is finished by 7:20 p.m., and Gore's net gain is 215 votes. Meyer learns that though Harris refused to accept the recount votes from Palm Beach County because it missed the deadline, she had accepted recounts from counties where Bush showed slight gains. Meyer writes, "This resulted in the 537 vote 'official' lead that the media is reporting." Of the recount process itself, Meyer writes: "The Republican spin is that all votes have been counted by machine at least twice in every county. The only trouble is the machines don't read every vote. The counting includes much more than simply reading the dimpled ballots. In our hand recount, we found many, many ballots on which the voter had indicated a preference, but not punched the ballot in the prescribed way. On some ballots, the voter had darkened in the numbers in each race for the candidate he or she wanted. On others, the voter punched out two different numbers, but wrote 'Mistake' or something equally as clear, with an arrow pointing to one of the holes. This shows clear intent to cast a vote for one candidate. The tabulating machine records this as an 'overvote' because more than one candidate's number is punched, and the ballot is disqualified in the machine count." [American Prospect, 12/14/2000]
Email Updates
Receive weekly email updates summarizing what contributors have added to the History Commons database
Donate
Developing and maintaining this site is very labor intensive. If you find it useful, please give us a hand and donate what you can.
Donate Now
Volunteer
If you would like to help us with this effort, please contact us. We need help with programming (Java, JDO, mysql, and xml), design, networking, and publicity. If you want to contribute information to this site, click the register link at the top of the page, and start contributing.
Contact Us