Columnist Bob Herbert accuses Bennett of 'racial effrontery.' [Source: Louisville Courier-Journal]William Bennett, the conservative radio host who is facing heavy criticism for suggesting that aborting black children would lower the US crime rate (see September 28-October 1, 2005 and September 29-30, 2005), defends his position by saying: "I was putting forward a hypothetical proposition. Put that forward. Examined it. And then said about it that it's morally reprehensible. To recommend abortion of an entire group of people in order to lower your crime rate is morally reprehensible. But this is what happens when you argue that the ends can justify the means.… I'm not racist, and I'll put my record up against theirs," he says, referring to leading Democrat Nancy Pelosi and other critics. "I've been a champion of the real civil rights issue of our times—equal educational opportunities for kids. We've got to have candor and talk about these things while we reject wild hypotheses," Bennett says. "I don't think people have the right to be angry, if they look at the whole thing. But if they get a selective part of my comment, I can see why they would be angry. If somebody thought I was advocating that, they ought to be angry. I would be angry. But that's not what I advocate." Bennett says he owes no one an apology: "I don't think I do. I think people who misrepresented my view owe me an apology." (CNN 9/30/2005)
Says Topics of Race and Crime Cannot Be off-Limits - Later, he continues to defend his remarks, saying, "It would have worked for, you know, single-parent moms; it would have worked for male babies, black babies." Asked why he would bring the subject up at all, Bennett says: "There was a lot of discussion about race and crime in New Orleans. There was discussion—a lot of it wrong—but nevertheless, media jumping on stories about looting and shooting, and roving gangs and so on. There's no question this is on our minds.… What I do on our show is talk about things that people are thinking… we don't hesitate to talk about things that are touchy. I'm sorry if people are hurt, I really am. But we can't say this is an area of American life [and] public policy that we're not allowed to talk about—race and crime." (Tapper 9/29/2005; Glaister 10/1/2005)
Feeding Perception that Republicans are Racist - Robert George, a black conservative editorial writer for the New York Post, agrees that Bennett did not mean his remarks as racist. But, he says, he worries that Bennett is feeding the perception that Republicans are racist. "His overall point about not making broad sociological claims and so forth, that was a legitimate point," George says. "But it seems to me someone with Bennett's intelligence… should know better the impact of his words and sort of thinking these things through before he speaks." (Tapper 9/29/2005) Bob Herbert, a black progressive columnist for the New York Times, later says he was unsurprised by Bennett's remarks: "I've come to expect racial effrontery from big shots in the Republican Party. The GOP has happily replaced the Democratic Party as a safe haven for bigotry, racially divisive tactics and strategies, and outright anti-black policies. That someone who's been a stalwart of that outfit might muse publicly about the potential benefits of exterminating blacks is not surprising to me at all.… Bill Bennett's musings about the extermination of blacks in America (it would be 'impossible, ridiculous, morally reprehensible') is all of a piece with a Republican Party philosophy that is endlessly insulting to black people and overwhelmingly hostile to their interests." (Herbert 10/6/2005)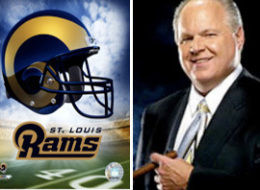 Photo illustration of Rush Limbaugh and the St. Louis Rams logo. [Source: Huffington Post]Conservative radio host Rush Limbaugh is removed from a group bidding to buy the National Football League's St. Louis Rams. The decision is made by the group's leader and largest potential investor, Dave Checketts, who owns the National Hockey League's St. Louis Blues. Checketts says that Limbaugh's participation has become too controversial to allow the radio host to continue participating in the effort to buy the NFL team. Limbaugh earned the ire of many NFL players and owners over several racially charged comments he made about the league; Jim Irsay, owner of the Indianapolis Colts, predicted that Limbaugh's potential ownership would have been met with significant opposition. The head of the NFL Players Association, DeMaurice Smith, an African-American, has urged players to speak out against Limbaugh's bid. NFL commissioner Roger Goodell says of the league, "divisive comments are not what the NFL is all about." He continues: "I've said many times before, we're all held to a high standard here. I would not want to see those comments coming from people who are in a responsible position in the NFL—absolutely not." African-American civil rights activist Reverend Al Sharpton praises the decision. "It is a moral victory for all Americans—especially the players that have been unfairly castigated by Rush Limbaugh," he says. "This decision will also uphold the unifying standards of major sports." (ESPN 10/15/2009)
Blaming Liberals and Democrats - For his part, Limbaugh blames Democrats and liberals. "This is not about the NFL, it's not about the St. Louis Rams, it's not about me," he tells his listeners. "This is about the ongoing effort by the left in this country, wherever you find them, in the media, the Democrat Party, or wherever, to destroy conservatism, to prevent the mainstreaming of anyone who is prominent as a conservative. Therefore, this is about the future of the United States of America and what kind of country we're going to have." (ESPN 10/15/2009) Columnist Robert George calls the NFL "hypocritical" for not welcoming Limbaugh's bid for ownership, noting that the league continues to allow convicted criminals to play, and notes that "foul-mouthed rappers like Jay-Z" are part owners of teams in the National Basketball League. (George 10/15/2009)
History of Racially Charged Comments - In 2003, Limbaugh was forced to resign from ESPN's Sunday NFL Countdown broadcast after alleging that quarterback Donovan McNabb, an African-American, was the beneficiary of preferential treatment because of his race (see September 28 - October 2, 2003). In 2007, Limbaugh compared NFL games to gang fights (see January 19, 2007 and After).