!! History Commons Alert, Exciting News
Profile: Ta-Nehisi Coates
Ta-Nehisi Coates was a participant or observer in the following events:
Atlantic columnist Ta-Nehisi Coates lambasts law professor Jeffrey Rosen for his recent analysis of prospective Supreme Court nominee Sonia Sotomayor (see May 4, 2009). Citing Rosen's line, "I haven't read enough of Sotomayor's opinions to have a confident sense of them, nor have I talked to enough of Sotomayor's detractors and supporters, to get a fully balanced picture of her strengths," Coates responds: "Rosen is attacking Sotomayor's ability to do the necessary intellectual heavy-lifting, while explicitly neglecting to do any of his own. In this instance, his piece reads like a burglar's brief against rampant criminality. Authored mid-robbery, no less." She also slams her Atlantic colleague Marc Ambinder's criticisms of Sotomayor (see May 5, 2009), noting, "You don't get to be the 'respectable intellectual center' and then practice your craft in the gossip-laden, ignorant muck." [Atlantic Monthly, 5/5/2009] Former civil litigator Glenn Greenwald joins Coates in criticizing the early attacks on Sotomayor. Greenwald calls Rosen's reliance on anonymous sources to attack Sotomayor's character and professional conduct "shoddy, irresponsible, and… intellectually irresponsible," and cites several instances where Rosen's reporting has been countered by sources willing to go on the record. Greenwald writes of his amazement at how quickly Sotomayor has been "transformed in conventional wisdom, largely as a result of Rosen's piece, into a stupid, shrill, out-of-her-depth Puerto Rican woman who is being considered for the Supreme Court solely due to anti-merit, affirmative action reasons." Greenwald writes that he twice faced Sotomayor in court, and found her "extremely perceptive, smart, shrewd, and intellectually insightful." She could be forceful, "at times unpleasantly so," he recalls, and remembers being dressed down by her for a "substantial procedural mistake" he committed, but notes that such behavior by judges "is the opposite of uncommon." Greenwald writes that behavior usually characterized as "tough," "forceful," and "authoritative" by white males is often reworked into characterizations of "domineering" and "egotistical" when the same behaviors are exhibited by women. Greenwald also notes that Rosen was one of the strongest media voices in favor of the nomination of conservative jurist John Roberts (see September 29, 2005) to the Court. [Salon, 5/5/2009] Less than a month later, Sotomayor will be nominated to the Court (see May 26, 2009).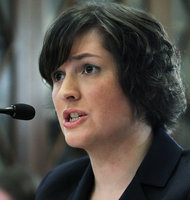 Sandra Fluke. [Source: Alex Wong / Getty Images / New York Times]Conservative radio talk show host Rush Limbaugh insults Sandra Fluke, the Georgetown University law student who testified in favor of federal law mandating that health care providers pay for contraception (see March 1, 2012), as a "slut" and a "prostitute" who wants the government to pay her for having sex. On his radio show, Limbaugh, who wrongly identifies her as "Susan" Fluke, says: "What does it say about the college coed Susan Fluke, who goes before a congressional committee and essentially says that she must be paid to have sex? What does that make her? It makes her a slut, right? It makes her a prostitute. She wants to be paid to have sex. She's having so much sex she can't afford the contraception. She wants you and me and the taxpayers to pay her to have sex. What does that make us? We're the pimps. The johns, that's right. We would be the johns—no! We're not the johns. Well—yeah, that's right. Pimp's not the right word. Okay, so, she's not a slut. She's round-heeled. I take it back." Think Progress reporter Alex Seitz-Wald comments on Limbaugh's characterization, "While it's probably not even worth engaging with Limbaugh on the facts, Fluke's testimony was about a friend who is a lesbian and needed birth control for non-sexual medical reasons, so he's only wrong about three times over, and offensive many more times over than that." Seitz-Wald notes that Fluke never discussed her own use, or non-use, of contraception, nor did she allude to her sexual activities at all. [Media Matters, 2/29/2012; Think Progress, 2/29/2012; Think Progress, 3/1/2012]
Misrepresentation - Seitz-Wald will note that Limbaugh is deliberately misrepresenting Fluke's position and the position of Congressional Democrats. "Fluke's testimony, and the entire contraception debate, is about insurance companies paying for contraception as part of their health coverage, the… way they pay for any other medication, such as Viagra. Morevoer, Fluke's testimony was not about herself, but about a friend who need contraception to fight cancer and other fellow law students. This conservative narrative, which is pure fantasy, seems to be based on a single bogus article from Cybercast News Service (CNS), which Limbaugh repeatedly cites, with the ludicrous headline, 'Sex-Crazed Co-Eds Going Broke Buying Birth Control, Student Tells Pelosi Hearing Touting Freebie Mandate.'" [CNS News, 2/29/2012; Think Progress, 3/2/2012]
Other News Outlets Join Limbaugh - Other conservative news outlets join Limbaugh in attacking Fluke and other women who use contraception. In the article cited by Limbaugh, CNS's Craig Bannister says that "sex-crazed co-eds" like Fluke should cut back on the amount of sex they're having to pay for other needs such as books and food. Fox News's Trace Gallagher mocks Fluke, saying: "And see, I was gonna go to law school, but I thought all you did was study in law school, right? So, I guess I was wrong on that." Fox News correspondent Monica Crowley says the government should not pay Fluke and others to have "recreational sex." CNN commentator Dana Loesch calls Fluke and other women "nymphos" for wanting access to contraceptives, and says Fluke and feminists "support… female genocide." [Media Matters, 2/29/2012; CNS News, 2/29/2012]
Fox Business Commentator: Fluke's Testimony Part of a Pro-Abortion Scheme by House Minority Leader - On Fox Business Channel's Lou Dobbs Tonight, regular guest Bill Donohue calls Fluke a "little brat." Dobbs asks Donohue to comment on what he calls Fluke's demand that she be given free contraception, a mischaracterization of Fluke's testimony (and one contradicted by the clip of her testimony Dobbs plays before Donohue's comments). Donohue begins by lambasting Georgetown for having a group called "Hoyas for Choice," which he calls "Hoyas for Abortion," but not groups like "Hoyas for Racism" or "Hoyas for Anti-Semitism." Donohue suggests that the university and Hoyas for Choice raise "the nine dollars a month" Fluke needs for her personal contraception needs, and Dobbs notes that Georgetown is "one of the most expensive universities in the country." Donohue attacks Fluke for "obviously dressing well" but then asking taxpayers to pay for her contraception and, without basis in fact, for her university education to boot. Why aren't taxpayers funding his anti-gout medication? he asks. "This is what we've come down to in this country," he concludes. "You have these little brats who come on TV and they testify and they say, 'I want, I want, I want,' and somehow I have a moral responsibility? They have a lien on me to pay this? It's all about getting the Catholic Church, obviously, to pay for their abortion-inducing drugs, which is why we're having this debate." Donohue says that Fluke's testimony is part of a scheme by House Minority Leader Nancy Pelosi (D-CA), "who actually brought her on there to speak," to force the Catholic Church to amend its position on abortion. [Media Matters, 2/29/2012]
'Shockingly Ugly Hatred' - Conservative blogger Charles Johnson, who in recent years has become highly critical of the race- and gender-based rhetoric from the right, writes that the right's reaction to Fluke constitutes "shockingly ugly hatred," and says Limbaugh's attack is "another step into the gutter." [Charles Johnson, 2/29/2012] Atlantic columnist Ta-Nehisi Coates agrees with Johnson, noting that Limbaugh is not just an "entertainer," but a powerful opinion leader of the Republican Party, and says that Limbaugh's comments are part of what Coates calls "the normalization of cruelty" and "evidence of the lowest aspects of humanity." [Atlantic, 3/1/2012] Eric Boehlert, a senior writer at the liberal media watchdog Web site Media Matters, calls Limbaugh's "radio outburst" an example of his "rancid misogyny," and writes: "[I]t was perhaps the talk show host's incessant need to bully powerless people from the safety of his studio that was so striking. That, and the glee Limbaugh seemed to take in not only maligning the young woman, but her parents as well. It's jaw-dropping." Boehlert goes on to remind readers that Limbaugh is not just a voice on the radio or an entertainer, but "the voice of America's conservative movement, as well as the Republican Party." [Media Matters, 3/1/2012]
House Democrats Call for Condemnation - House Democrats, including Pelosi, call for Republican Congressional leaders to condemn Limbaugh's remarks (see February 29, 2012).
Statement from Law Student - Fluke will issue a statement repudiating Limbaugh's rhetoric (see March 1, 2012).
Continued Attacks - Limbaugh will continue his attacks on Fluke the next day (see March 1, 2012).
Entity Tags: Eric Boehlert, Alex Seitz-Wald, Trace Gallagher, Bill Donohue, Dana Loesch, Craig Bannister, Charles Johnson, Ta-Nehisi Coates, Cybercast News Service, Rush Limbaugh, Georgetown University, Sandra Fluke, Fox Business Channel, Lou Dobbs, Fox News, Nancy Pelosi, Monica Crowley, Republican Party
Timeline Tags: Domestic Propaganda
An array of journalists and columnists from the left and right attack National Review columnist John Derbyshire over what they consider a flatly racist column published in a right-wing blog (see April 5, 2012). The New York Daily News's Alexander Nazaryan calls Derbyshire's column "racist junk." He speculates that it may be "lead-footed satire" instead of a serious assertion, though Derbyshire will state that he considers his column "social commentary" and not satire. According to Nazaryan, Derbyshire failed to exhibit a basic modicum of "ordinary human decency" in his column, and instead produced a work that "only a Klansman would find hilarious." Nazaryan continues: "Derbyshire has only one point, and he hammers it home again and again: Black Americans are dangerous, less intelligent, and poorly socialized. He wants his children to stay away from them as much as possible." He is, Nazaryan writes, "a perfect poster boy for what conservatism has degenerated into." Matt Lewis of the conservative news blog Daily Caller writes: "Some people aren't worth the fighting for. Some things are indefensible. This is one of those cases." [New York Daily News, 4/5/2012; Think Progress, 4/6/2012] Blogger Charles Johnson, a conservative who has become increasingly frustrated at the racism and gender hatred promulgated by some on the right (see April 15, 2011, February 9-11, 2012, February 12-13, 2012, and February 29, 2012), calls the column "overtly racist, paranoid, and frankly deranged." [Charles Johnson, 4/6/2012]
Magazine Must Fire Derbyshire - Josh Barro of the conservative business publication Forbes writes that the National Review must fire Derbyshire immediately. Lowry often complains that the publication is unfairly characterized as promoting racism and bigotry, Barro writes, but notes that it is difficult for Lowry to complain about such characterizations as long as he publishes work by overtly bigoted columnists such as Derbyshire. [Forbes, 4/6/2012] Atlantic columnist Ta-Nehisi Coates declares flatly, "John Derbyshire is a racist." Derbyshire proclaimed himself a racist nine years ago, Coates observes (see November 11-18, 2003), and writes: "I guess it's admirable that Rich Lowry is taking time away from pondering why people think he's a bigot, to denounce Derbyshire. But 'Derb' told you what he was in 2003. And National Review continued to employ him. That's who they are. What else is there?" [Atlantic, 4/7/2012]
Derbyshire Serves Useful Purpose for Publication - Atlantic Wire columnist Elspeth Reeve believes the National Review has not yet fired Derbyshire because his writings are useful to it, writing: "The truth about intellectual magazines is that not all of their readers are as enlightened and forward-thinking and clear-eyed as the people who produce them imagine themselves to be. So the trick to pull off is how to give what those less enlightened readers want—and thereby secure their money either through subscriptions or contributions—while still maintaining an air of respectability. Think of how your PBS station always trots out the stars-of-the-1970s concerts and River Dance whenever pledge drive comes around. That's where Derbyshire comes in. You're probably familiar with the phrase, 'No offense, but… ' which always precedes something offensive wrapped in an 'I'm just telling it like it is' attitude. In certain parts of the country, there's a similar use of the phrase, 'I'm not racist, but… ' which always signifies that the speaker is about to say something racist. Derbyshire's specialty is the fancy-pants version of 'I'm not racist, but… ' … Derbyshire lends credibility to the sense of white grievance—that white people are the real victims of racism. He doesn't use the language Ron Paul did in his racist old newsletters, which painted a vivid picture of packs of black thugs marauding cities and infecting white women with HIV for the sheer fun of it (see 1978-1996). That was specifically to appeal to rednecks. Derbyshire is classier than that." Reeve concludes: "Race-baiting is getting harder and harder to do while holding onto your job. So, who knows, maybe this will be the piece that finally costs Derbyshire his. If it is, he will no doubt be surprised after such a long career of writing outrageously racist things. He's served, for all the aspiring race-baiters out there, as the model for how it's done." [Atlantic Wire, 4/6/2012] Derbyshire will indeed be fired from the National Review as a result of his column (see April 7, 2012).
Email Updates
Receive weekly email updates summarizing what contributors have added to the History Commons database
Donate
Developing and maintaining this site is very labor intensive. If you find it useful, please give us a hand and donate what you can.
Donate Now
Volunteer
If you would like to help us with this effort, please contact us. We need help with programming (Java, JDO, mysql, and xml), design, networking, and publicity. If you want to contribute information to this site, click the register link at the top of the page, and start contributing.
Contact Us