!! History Commons Alert, Exciting News
Profile: Youssef Belhadj
a.k.a. Abu Dujan al-Afghani
Youssef Belhadj was a participant or observer in the following events:
Youssef Belhadj. [Source: Public domain]At 7:30 p.m., on March 13, 2004, the night before national elections in Spain, an anonymous phone caller tells a Madrid television station that there is a videotape related to the Madrid train bombings two days earlier (see 7:37-7:42 a.m., March 11, 2004) in a nearby trash can. The video is quickly found. It is not broadcast, but the government releases portions of its text to the media that evening. [Associated Press, 3/13/2004] A man on the tape identifies himself as Abu Dujan al-Afghani, and says he is the military spokesman for the "military wing of Ansar al-Qaeda" (ansar means partisan). [New York Times, 4/12/2004] Dressed in white burial robes and holding a submachine gun, he says: "We declare our responsibility for what happened in Madrid exactly two-and-a-half years after the attacks on New York and Washington. It is a response to your collaboration with the criminals Bush and his allies. This is a response to the crimes that you have caused in the world, and specifically in Iraq and Afghanistan, and there will be more, if God wills it." [BBC, 3/14/2004; Irujo, 2005, pp. 327-342] Spanish Interior Minister Angel Acebes has been repeatedly blaming ETA, a Basque separatist group, for the bombings (see 10:50 a.m.-Afternoon, March 11, 2004 and March 12, 2004). He holds a press conference shortly after the videotape text is made public and encourages the public to be skeptical about the tape's authenticity. [Observer, 3/14/2004] But more and more Spaniards doubt the official story. El Mundo, the largest newspaper in Madrid, criticizes "the more than dubious attitude of the government in relation to the lines of investigation." The BBC publishes a story hours before the election is to begin and notes: "If ETA is to blame it would justify the [ruling Populist Party's] hard line against the group and separatism in Spain. But if al-Qaeda is to blame, however, it would bring into question Spain's decision to join the United States and Britain in the war on Iraq, something 90 percent of Spaniards opposed." [BBC, 3/14/2004] The video actually was made by the bombers. A banner shown in the video is found in a safe house used by the bombers about a month later (see 9:05 p.m., April 3, 2004), suggesting the video was shot there. [New York Times, 4/12/2004] The spokesman will later be revealed to be Youssef Belhadj. Belhadj will be arrested in Belgium in 2005, extradited to Spain, and sentenced to prison for a role in the Madrid bombings. [Irujo, 2005, pp. 327-342; MSNBC, 10/31/2007]
At 11:00 a.m. on April 2, 2004, a security guard notices a plastic bag next to train tracks forty miles south of Madrid. The bag contains 26 pounds of the same type of explosives used in the March 11 Madrid train bombings (see 7:37-7:42 a.m., March 11, 2004). The explosives are connected to a detonator by 450 feet of cable, but they lack a triggering mechanism. The tracks are for a high-speed rail line, and if the bomb had derailed a train, it could have killed more people than the March 11 bombings did. Three days earlier, workers surprised a group of men digging a hole on a nearby section of the same rail line. It is suggested that the bombers fled prematurely both times. The next day, at 6:05 p.m., the Madrid newspaper receives a fax from Abu Dujan al-Afghani taking credit for the failed bomb. This same person (whose real name is Youssef Belhadj) took credit for the Madrid bombings and was linked to the actual bombers (see 7:30 p.m., March 13, 2004). He says the bomb is meant to show that the group can attack at any time, and demands that Spain withdraw all its troops from Iraq and Afghanistan immediately (the new prime minster has already pledged to withdraw Spain's troops from Iraq (see March 14, 2004)). Curiously, the fax is sent right when the key Madrid bombers are in the middle of a gun battle with Spanish police. They are killed several hours later (see 9:05 p.m., April 3, 2004). [BBC, 3/4/2004; Irujo, 2005, pp. 349-260; Vidino, 2006, pp. 302-303]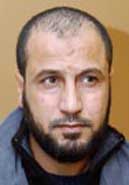 Rabei Osman Sayed Ahmed. [Source: Associated Press]The trial of 28 people accused of a role in the 2004 Madrid train bombings comes to an end, and 21 are found guilty. However, only three are convicted of murder and are given life sentences: Jamal Zougam, Othman El Gnaoui, and Emilio Suarez Trashorras. Seven of the principal bombers blew themselves up one month after the bombings (see 9:05 p.m., April 3, 2004). None of the accused confessed, making convictions difficult. Rabei Osman Sayed Ahmed was accused of being the bombing mastermind. While living it Italy, he reportedly bragged, "I was the leader of Madrid," and "the Madrid bombings were my project, and those who died as martyrs there were my beloved friends." But his defense attorneys argued successfully that the tapes were mistranslated and so they were thrown out as evidence. A counterterrorism expert says the court appeared to have a very strict standard of admissible evidence. However, Ahmed is serving a ten-year prison sentence in Italy based on unrelated charges. [Washington Post, 11/14/2004; MSNBC, 10/31/2007; New York Times, 11/1/2007] Many victims' relatives complain that the sentences are too lenient. And a spokesperson for Spain's main opposition party comments, "We still don't know who gave the order, we still don't know who built those bombs, and we still don't know who was the coordinator of these cells that carried out these attacks." [BBC, 11/1/2007] Some of the other verdicts:

Hamid Ahmidan - 23 years.

Rachid Aglif - 18 years.

Abdelmajid Bouchar - 18 years.

Basel Ghalyoun - 12 years.

Mohammed Larbi ben Sellam - 12 years.

Fouad el Morabit - 12 years.

Mouhannad Almallah - 12 years.

Rafa Zouhier - 10 years.

Youssef Belhadj - 12 years.

Antonio Toro - Acquitted.

Carmen Toro - Acquitted. [El Mundo (Madrid), 11/1/2007]
Entity Tags: Rachid Aglif, Mouhannad Almallah, Othman El Gnaoui, Rabei Osman Sayed Ahmed, Rafa Zouhier, Mohammed Larbi ben Sellam, Emilio Suarez Trashorras, Hamid Ahmidan, Abdelmajid Bouchar, Antonio Toro, Basel Ghalyoun, Carmen Toro, Fouad el Morabit, Jamal Zougam, Youssef Belhadj
Timeline Tags: Complete 911 Timeline
Email Updates
Receive weekly email updates summarizing what contributors have added to the History Commons database
Donate
Developing and maintaining this site is very labor intensive. If you find it useful, please give us a hand and donate what you can.
Donate Now
Volunteer
If you would like to help us with this effort, please contact us. We need help with programming (Java, JDO, mysql, and xml), design, networking, and publicity. If you want to contribute information to this site, click the register link at the top of the page, and start contributing.
Contact Us